GME launches the new TX6500S UHF Radio
The TX6500S is the latest addition to GME's large range of handheld UHF CB radios. The unique feature of the radio is that its the only 5 watt handheld radio designed and built in Australia at the GME plant in Sydney. The new TX6500S is built tough to work in the most rugged conditions. It is IP67 rated making it waterproof and dustproof. GME's intelligent battery management sytem improves the efficiency of its 2000mAh battery and provides an operatiing life of upto 20 hours on each recharge.
GME has introduced a revolutionery new feature ScanSuite in the TX6500S. This features allows for uninterrupted communication within a group even when the channels are busy as the radio automatically switched the whole group to a new available channel. Unique Turbo scan feature scans 50 channels per second which is the fastest among all channels.
The GME TX6500S can be switched between 5watt and 1 watt power output.  This helps to conserve battery life when using the radio for short range communication. The TX6500S also comes with a short stubby antenna and a flexible 1/4 wave antenna for longer range. All these features, backed by GME's reputation,  make the GME TX6500S, the best handheld UHF CB radio in the market.
You can purchase the GME TX6500S from Time Plus Communications - Click Here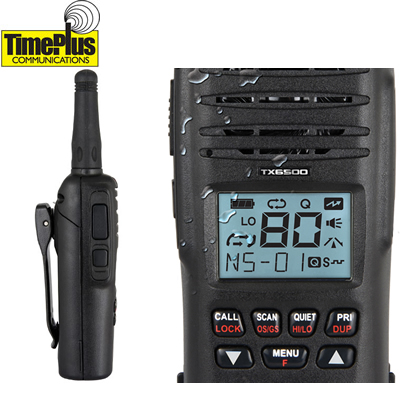 comments powered by

Disqus